The show Supernatural revealed to the world an old magick spell and custom for protecting yourself from negative spiritual forces: salt. It's true. I know it isn't dramatic and seems a little mundane but salt works. Salt keeps the negative stuff out. It is a true barrier to all that is supernatural and potentially evil. Very old magick but powerful.
Recently I went to Admiralty House and even though the energy was good there, I still was impacting physically. I was carrying salt on my pocket but there was a stabbing pain that went down through my neck at one point and lasted for days. It could have just been my fibromyalgia, but it got me thinking, how can I protect myself even more? Sensitives pick up on everything and have to be careful. As a result, I came up with a double protective amulet.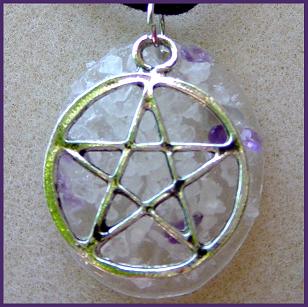 Salt and a pentacle make a powerful team. I also added some amethyst chips for a little more spiritual energy and the pentacle (five pointed star in a circle) is an amazing protective symbol if you have pagan or Wiccan tendencies like me. A perfect match.
You can cleanse your home using a small spray bottle of salt water. You can cleanse your body and spirit, drawing out the negative using epsom salts in a bath. You can protect your home by surrounding it with salt.
Old magick is simple. Old magick is powerful. When dealing with the supernatural, you can never be too careful. Ghost don't always want to harm us but they are troubled spirits with a lot of baggage. A little magick can go a long way and what can it hurt?

sacredsuzie




Posts

: 11


Join date

: 2008-06-29



I completely agree, just goes to show you our ancestors where not simpleton, and that best method is not always the most complex/expensive.

AutumnSims

Moderator




Posts

: 92


Join date

: 2008-06-28


Age

: 38


Location

: Casa Grande Arizona



So true! I think people over think things and don't realize that the oldest, simplest ways are the most effective. There's a reason they've used these methods for centuries. Magick is not complicated. It's for EVERYONE.

sacredsuzie




Posts

: 11


Join date

: 2008-06-29




---
Permissions in this forum:
You
cannot
reply to topics in this forum